The Design and Identity of Batik Tulis Product Selected of Batik Manufacturers in Klang Valley
Ahmad Hakim Abdullah

Faculty of Creative Technology and Heritage, Universiti Malaysia Kelantan 16300 Bachok, Kelantan, MALAYSIA
Abstract
Batik Tulis in the Klang Valley has motif and pattern design that identified its own identity. The purpose of this study is to find out the development of the Batik tulis industry in the Klang valley from year 2000 until 2018. Next, it also to study the design and identity of the Batik tulis motif and pattern in the Klang valley from year 2000 until 2018. This study used several methods and approach for data collection consist of interviews, observations and photo documentation. Three Batik tulis manufacturers in Klang Valley have been identified in carrying out this study. The data were then analysed using analytical design approach. The findings showed that, each product of Batik tulis has a uniqueness in terms of subject matters as well as assertions in pattern and designs used. The development of the Batik tulis industry has been changed in terms of design according to the demand of batik users themselves who want differentiation in the design concept of batik products. Most of the batik products in this Klang valley are more focused on the concept of modern and contemporary design. It involves the use of colours, the type of fabrics and the selection of motifs characterized by flora and fauna in modern style. In conclusion, Batik tulis designs and identity in the Klang Valley from year 2000 until 2018 are still retain the originality of the flora and fauna motifs themselves but have made the design of the traditional style to a more modern and contemporary design. However, the design aspect of Hand drawn Batik products in the Klang Valley today needs to be disclosed to the public so that, it can maintain the textile arts, especially the Batik tulis as a Malay textile heritage.
Keywords: Klang Valley, batik Tulis, Design, Manufacturer, Identity
References
Adi Taha. 1991. Perkembangan Sejarah Awal Negeri Kedah, Berdasarkan Penemuan Bahanbahan Arkeologi dlm Dokumentari Konvensyen Sejarah Negeri Kedah, hlm.20-28.

Ahmed, N. Y. N. 2015. Sumbangan Che Su dan keluarga kepada pembangunan perusahaan batik di Kelantan (Doctoral dissertation, University Malaysia Kelantan).

Akhir, N. H. M., Ismail, N. W., Said, R., Ranjanee, S., & Kaliappan, P.2015. Traditional craftsmanship: The origin, culture, and challenges of batik industry in Malaysia. In Islamic perspectives relating to business, arts, culture and communication (pp. 229-237). Springer, Singapore.

Arbaiyah Aziz.2008. Menelusuri Tradisi Seindah seni Semurni Budaya dan Warisan Sepanjang Zaman,Batik Merbok ,MPH Group Publishing Sdn Bhd, Petaling Jaya,Selangor, PTAR UITM Shah Alam

Dharmarajan, N., Aziz, A. A., & Lokman, A. M. (2006). Archiving cultural heritage in Malaysia: The Nyonya kebaya. In Proceedings of the International Conference on Business Information Technology (p. 13).

Drs,Biranul Anas.2008.Batik, Sekretariat Tim Penyusun Seri Buku Museum Grafika,Jakarta Pusat,Indonesia,PTAR UITM Shah Alam.

Fiona Kerlogue. 2004. The Book Of Batik,Archipelago Press, an imprint of Editions Didier Millet 121 Telok Ayer Street, Singapore,068590,PTAR, UITM Shah Alam.

Hidayat, J., & Fatmahwaty, F. 2014. The Art and Sustainable Aspects of Natural Dyeing in KANAWIDA Hand Drawn Batik (Green Batik). IPTEK Journal of Proceedings Series, 1(1).

Hidayat, S. R..2018, February. Innovation of Hand-Drawn Batik in Context of Tourism. In 4th Bandung Creative Movement International Conference on Creative Industries 2017 (4th BCM 2017). Atlantis Press.

Itie Van Hout. 2001. Batik Drawn in Wax, KIT publishers-Amsterdam, PTAR UITM Shah Alam.

Kari, R., Samin, A., & Legino, R. (2018). The Sustainability's Motif and Design of Fauna in Malay Block Batik. In International Conference on Social Sciences, Humanities, Economics and Law. European Alliance for Innovation (EAI).

Khairi, A., Hamid, S. E. A., & Ismail,S. B. 2018. Penonjolan Identiti Budaya Melayu Menerusi Aplikasi Batik dalam Pembuatan Bot Gentian Kaca (Fibreglass Boat) di Universiti Kuala Lumpur Malaysian Institute of Marine Engineering Technology (UniKL MIMET), Lumut, Perak. Wacana Seni Journal of Arts Discourse, 17.

Mangifera, L. 2016. Pengembangan Industri Kreatif Produk Batik Tulis Melalui Value Chain Analysis.

Noorizan, M. F., Ramli, I., & Nawawi, N. M. 2015. The Exploration Technique of Nature for Contemporary Batik Design. In International Colloquium of Art and Design Education Research (i-CADER 2014) (pp. 277-287). Springer, Singapore.

Rahmah Bujang dan Nor Azlin .2002. Kesenian Melayu,Kuala Lumpur:Akademik Pengajian Melayu, Universiti Malaya.

Rahman, R. A. 2013. CULTURAL CONFLICT AND RESOLUTION BETWEEN INDONESIA AND MALAYSIA: THE GOVERNMENT EFFORT TO RESPOND BATIK CLIMED BY MALAYSIA IN 2009 (Doctoral dissertation, President University).

Samin, M. A., Ramli, N. A., & Legino, R. 2017. Designing batik with alternative batik techniques using wax application. Advanced Science Letters, 23(11), 10629-10631.

Sekimoto, T.2003. Batik as a Commodity and a Cultural Object. New York: Berghan Books.

Siti Zainon Ismail,Tekstil Melayu .1994. Fungsi Simbol dan Keindahan.Dalam Ismail Hussein, A.Aziz Deramandan Abd. Rahman Al-Ahmadi,Tamadun Melayu Jilid Lima (hlm.2035-2055) Kuala Lumpur:Dewan Bahasa dan Pustaka.

Siti Zainon Ismail.1986. Rekabentuk Kraftangan Melayu Tradisi.Kuala Lumpur: Dewan Bahasa dan Pustaka.

Steelyana, W. 2012. Batik, a beautiful cultural heritage that preserve culture and support economic development in Indonesia. Binus Business Review, 3(1), 116.

Wisnalmawati, W., Surachman, S., Rahayu, M., & Hussein, A. S. (2015). Brand Prestige as Mediation Effect of Store Image on Store Loyalty (Study of Batik Tulis Store Customer at Yogyakarta Special Region). Australian Journal of Basic and Applied Sciences, 9, 635-641.

Yunus, N. A. 2012. Malaysian batik: Reinventing a tradition. Tuttle Publishing.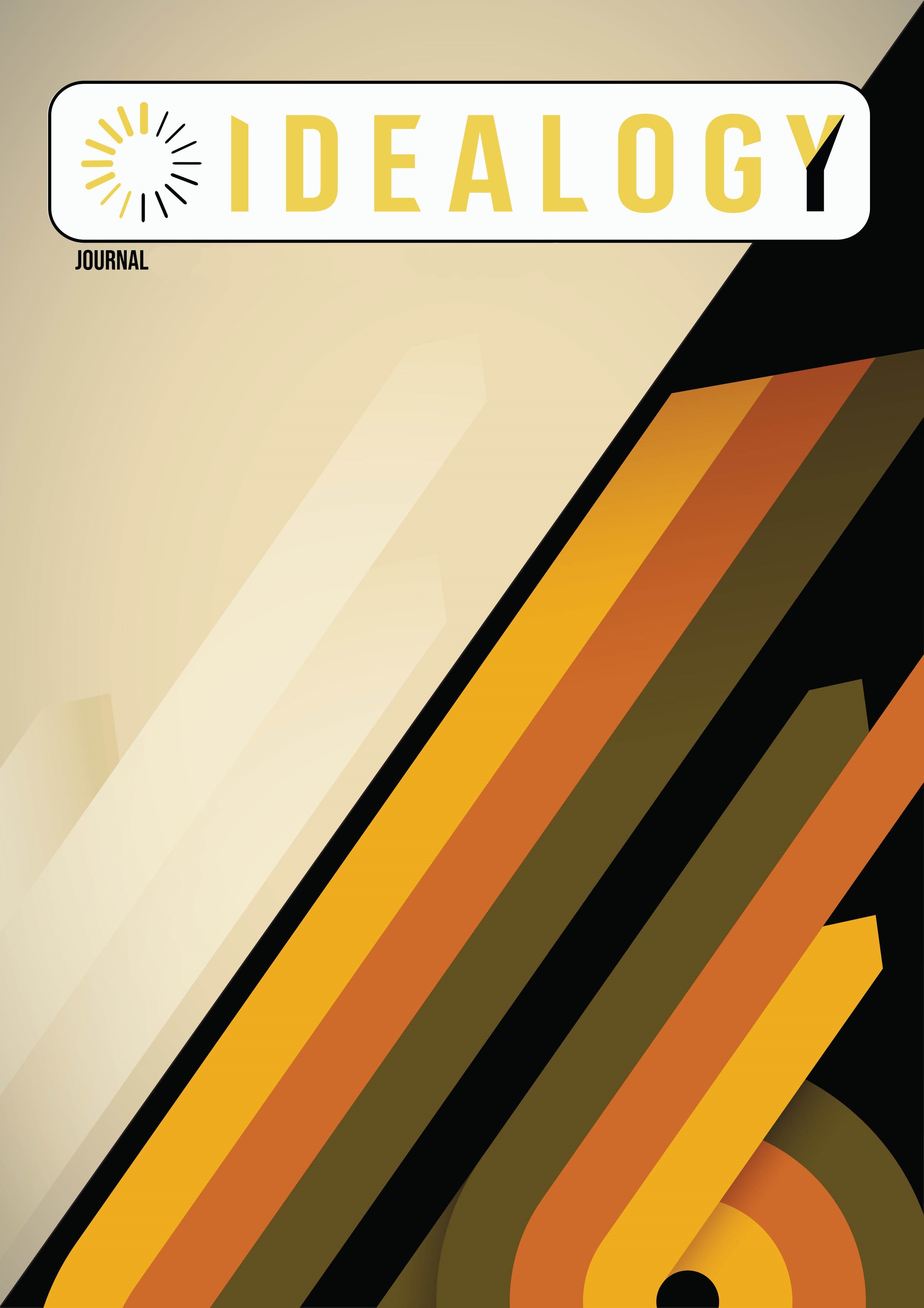 Section
Original Articles
This work is licensed under a Creative Commons Attribution-NonCommercial-NoDerivatives 4.0 International License.
UiTM Press (the Publisher) has agreed to publish the undersigned author's paper in Idealogy Journal. The agreement is contingent upon the fulfilment of a number of requirements listed below.
1. The undersigned author warrants that the paper entitled below is original, that it is not in any way libellous or unlawful in Malaysia, that it does not infringe any copyright or other proprietary right. The undersigned hereby represents and warrants that he/she is the author of the paper, except for material that is clearly identified as to its original source, with permission notices from the copyright owners where required. The undersigned represents that he/she has the power and authority to sign and execute this agreement.
2. The undersigned author warrants that the paper entitled below has not been published elsewhere, and also it will not be submitted anywhere else for publication prior to acceptance/rejection by this Journal.
3. By submitting the paper entitled below, the undersigned author agrees to transfer the rights to publish and distribute the paper in an international e-journal (entitled above) to Publisher.
4. The undersigned author agrees to make a reasonable effort to conform to Publisher's submission guidelines and to liaise with the editor to ensure that the requirements of these guidelines are met to a reasonable degree.
5. The corresponding author signs for and accepts responsibility for releasing this material on behalf of any and all coauthors. This agreement is to be signed by at least one of the authors who has obtained the assent of the co-author(s) where applicable. After submission of this agreement signed by the corresponding author, changes of authorship or in the order of the authors listed will not be accepted.