Integrating Malaysian and Japanese Textile Motifs Through Product Diversification: Home Décor
HOME DÉCOR
Muhammad Fitri Samsuddin

Faculty of Art & Design, Universiti Teknologi MARA Cawangan Melaka, MALAYSIA

Azni Hanim Hamzah

Faculty of Art & Design, Universiti Teknologi MARA Cawangan Melaka, MALAYSIA

Fazlina Mohd Radzi

Faculty of Art & Design, Universiti Teknologi MARA Cawangan Melaka, MALAYSIA

Siti Nurul Akma Ahmad

Faculty of Business & Management, Universiti Teknologi MARA Cawangan Melaka, MALAYSIA

Mohd Faizul Noorizan

Faculty of Art & Design, Universiti Teknologi MARA Cawangan Melaka, MALAYSIA

Mohd Ali Azraie Bebit

Faculty of Art & Design, Universiti Teknologi MARA Cawangan Melaka, MALAYSIA
Abstract
Malaysian textile motifs especially the Batik motifs and its product are highly potential to sustain in a global market. The integration of intercultural design of Malaysian textile motifs and Japanese textile motifs will further facilitate both textile industries to be sustained and demanded globally. Besides, Malaysian and Japanese textile motifs can be creatively design on other platforms not limited to the clothes. Therefore, this study is carried out with the aim of integrating the Malaysian textile motifs specifically focuses on batik motifs and Japanese textile motifs through product diversification. This study focuses on integrating both textile motifs and diversified the design on a home décor including wall frame, table clothes, table runner, bed sheets, lamp shades and other potential home accessories. In this concept paper, literature search was conducted to describe about the characteristics of both Malaysian and Japanese textile motifs and also to reveal insights about the practicality and the potential of combining these two worldwide known textile industries. The investigation was conducted to explore new pattern of the combined textiles motifs. The new combined pattern is visually presented as an outcome of this study. An integration of Malaysian and Japanese textile motif aims to strategize the coverage of Malaysian and Japanese textile motifs in a global market. This idea may also contribute to the new opportunities for Malaysian and Japanese textile producers in expanding their design not merely on the clothes fabric but also towards the home decor fabric design. This will turn into additional profit making and increasing economic growth of both countries as well as expanding the traditional textiles industry.
Keywords: Malaysian Textile Motifs, Japanese Textile Motifs, Batik Motifs, Home Decor
References
Ahmad Sayuti Nurul 'Ayn, Mas Ayu Zainal @Ismail, Ahmad Fazlan Ahmad Zamri, Mohd Zamri Azizan. (2018). From Culture To Innovative Product:Batik Design In Porcelain Wares. Malaysian Journal of Sustainable Environment. 5(2). 27-42.

Aizat Khairi, Shamsul Effendy Abdul Hamid & Shaiful Bakri Ismail. 2018. Penonjolan identiti budaya Melayu menerusi aplikasi batik dalam pembuatan bot gentian kaca (fibreglass boat) di Universiti Kuala Lumpur Malaysian Institute of Marine Engineering Technology (UniKL MIMET), Lumut, Perak. Wacana Seni Journal of Arts Discourse 17: 183–201. https://doi.org/10.21315/ ws2018.17.7.

Arney, S. (1987). Malaysia batik: Creating new traditions. Kuala Lumpur: Malaysian Handicraft Development Corp.

Aziz, A. (1990). Selayang kenangan. Kuala Lumpur: AMK Interaksi. Bahasa dan Pustaka.

Baker, W. D., & Baker, I. S. (1920). Batik and other pattern dyeing. Chicago: Atkinson, Mentzer & Co. Baldick.

Crawfurd, J. (1820). History of the Indian Archipelago containing an account of the manners, arts, languages, religions, institutions, and commence of it inhabitants (Vols. 1-3). Edinburgh: Archibald Constable. Crawfurd.

Crawfurd, J. (1852). A grammar and dictionary of the Malay language, with a preliminary dissertation (Vols. 1-2). London: Smith, Elder, and Co.

Dennys, N. B. (1894). A descriptive dictionary of British Malaya. London: Woodfall and Kinder.

Hussin, H. (2006). Motif alam dalam batik dan songket Melayu. Kuala Lumpur: Dewan Bahasa dan Perbadanan Kemajuan Kraftangan Malaysia Act, 1979. Kuala Lumpur: Percetakan Nasional Malaysia Berhad.

Ismail, S. Z. (1997). The traditional Malay handicraft design. Kuala Lumpur: Dewan

Kundharu Saddhono, Sahid Teguh Widodo, Muhammad Taufiq Al-Makmun & Masakatsu Tozu. (2014). The Study of Philosophical Meaning of Batik and Kimono Motifs to Foster Collaborative Creative Industry. Asian Social Science; 10 (9). 52-61.

Legino, R. (2004). A study of the Islamic influences on traditional Malay batik sarongs of Kelantan and Terengganu (Master's thesis, University Technology MARA).

Legino, R. (2012). Malaysian Batik Sarongs: A Study of Tradition and Change, School OF Art RMIT Australia.

Leyden, J. (1821). Malay Annals translated from the Malay language by the Late Dr. John Leyden with an introduction, Sir Thomas Stamford Raffles, F.R.S. London: Longman.

Malaysian Handicraft, 2009. Malaysia Handicraft Development Corporation.

Mijer, P. (1919). Batiks, how to make them. NY, New York: Dodd, Mead and Company.

Muhammad Fitri Samsuddin, Siti Nurul Akma Ahmad, Mohd Hisham Johari, Azni Hanim Hamzah, Raziq Abdul Samat (2019). Promoting Malaysian "Batik" pattern through Automotive Interior Design. International Journal of Academic Research in Business and Social Sciences, 8(12), 2036–2043.

Pustaka. Hussin, N. (2008). Geography and trade: Importance of the Straits of Malacca to world trade, Asia and the Malay world 1700-1800. Akademika, 73, 3-26.

Rahab; Nurul Anwar; Supadi, Lasmedi Affuan, 2013. Promotion Mix Strategy For Improving Competitiveness of Batik Banyumasan, Proceeding on"3rd International Conference on Multidisciplinary Research (ICMR 2013), February, 7-9, 2013 in La Consolacion College, Bacolod City, Philiphina.

Sheppard, M. (1965). Malay courtesy: A narrative account of Malay manners and customs in everyday use. Singapore: Eastern Universities Press.

Slamet Supriyadi, Sariatun. (2016). Empowering "Girli" Batik Craftswomen to Enhance Family Economy and Develop Tourism Village in Sragen District. 3rd ISME International Colloquium.

Tanha, Mansoureh Rajabi & Amad, Izmer. (2013). Towards a Cross Cultural Design by Integrating Batik Motifs into the Persian Carpet Design. International Journal of the Malay World and Civilisation. 1(1). 111-123.

Wardani, Laksmi Kusuma & Sitindjak, Ronald Hasudungan Irianto. (2014). Batik and Its Implementation in Art and Design. The International Journal of Social Sciences. 24(1). 37-44.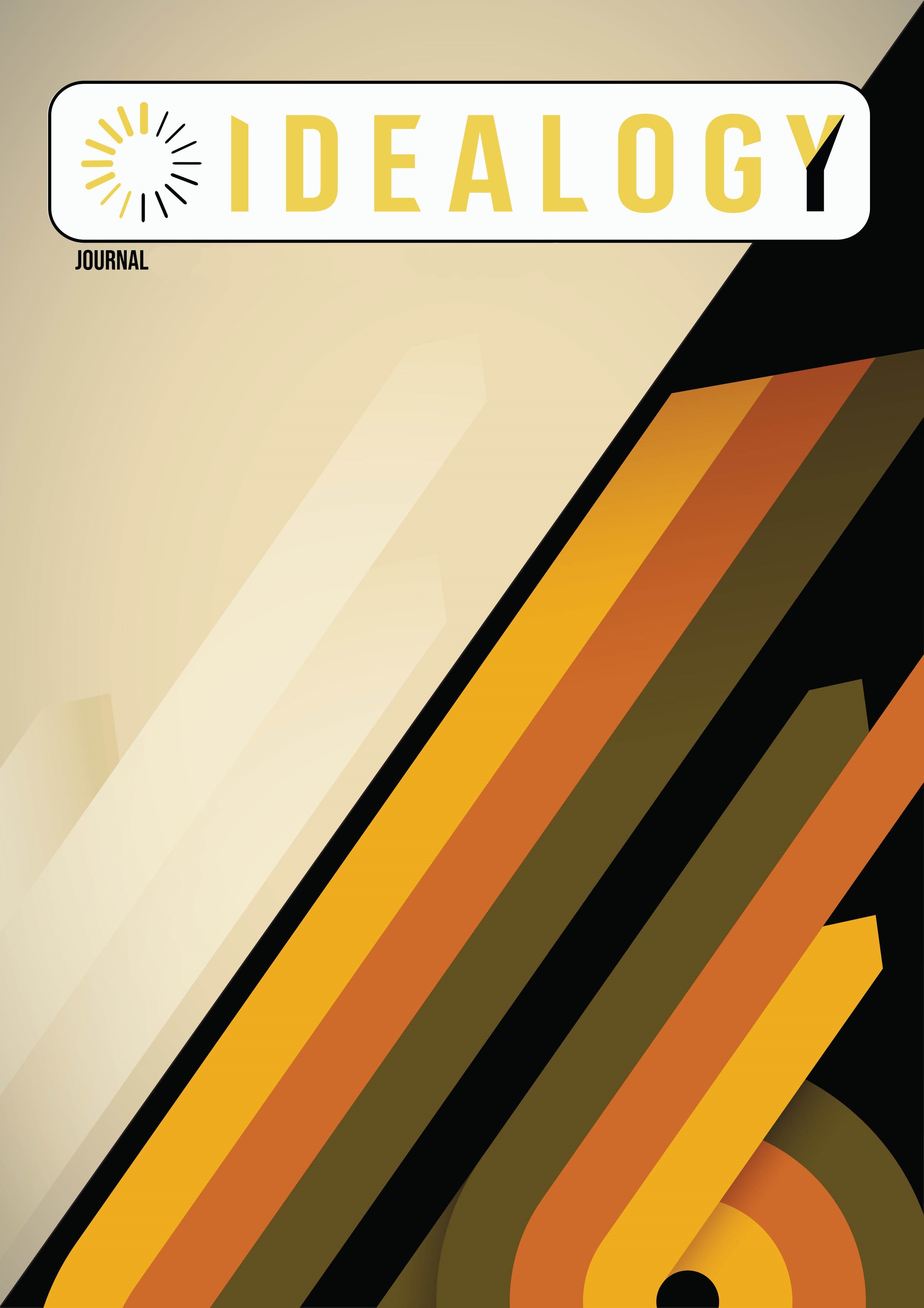 Section
Original Articles
UiTM Press (the Publisher) has agreed to publish the undersigned author's paper in Idealogy Journal. The agreement is contingent upon the fulfilment of a number of requirements listed below.
1. The undersigned author warrants that the paper entitled below is original, that it is not in any way libellous or unlawful in Malaysia, that it does not infringe any copyright or other proprietary right. The undersigned hereby represents and warrants that he/she is the author of the paper, except for material that is clearly identified as to its original source, with permission notices from the copyright owners where required. The undersigned represents that he/she has the power and authority to sign and execute this agreement.
2. The undersigned author warrants that the paper entitled below has not been published elsewhere, and also it will not be submitted anywhere else for publication prior to acceptance/rejection by this Journal.
3. By submitting the paper entitled below, the undersigned author agrees to transfer the rights to publish and distribute the paper in an international e-journal (entitled above) to Publisher.
4. The undersigned author agrees to make a reasonable effort to conform to Publisher's submission guidelines and to liaise with the editor to ensure that the requirements of these guidelines are met to a reasonable degree.
5. The corresponding author signs for and accepts responsibility for releasing this material on behalf of any and all coauthors. This agreement is to be signed by at least one of the authors who has obtained the assent of the co-author(s) where applicable. After submission of this agreement signed by the corresponding author, changes of authorship or in the order of the authors listed will not be accepted.