Hingar-Bingar Pasar Pengalaman (2004): Satu Kritikan Dalam Memahami Diri T. Alias Taib
Hingar-Bingar Pasar Pengalaman (2004): A Critique in Understanding T. Alias Taib Himself
Nur Nafishah Azmi

Kolej Pengajian Seni Kreatif, Universiti Teknologi MARA 40150 Shah Alam, Selangor Darul Ehsan

Ibrahim Jamaluddin

Kolej Pengajian Seni Kreatif, Universiti Teknologi MARA 40150 Shah Alam, Selangor Darul Ehsan
Abstract
Hingar bingar merupakan keadaan bising, riuh-rendah, hiruk-pikuk dan semua orang berteriak-teriak sehingga suasana menjadi tidak tenteram. Itu adalah perasaan seseorang apabila menjejakkan kaki ke pasar. Perasaan ini berbeza apabila penulis membaca Pasar Pengalaman (2004), daripada T. Alias Taib. Pasar yang diterjemahkan dalam buku Antologi Puisi Pasar Pengalaman (2020) adalah falsafah diri T. Alias Taib sendiri. Kajian ini akan membawa satu pelayaran kepada pengalaman yang telah dialami oleh T. Alias Taib pada ketika puisi ini dituliskan seterusnya membuktikan bahawa keadaan hingar bingar di pasar masih wujud sehingga saat ini. Bagi merealisasikan pelayaran kajian ini, kaedah yang akan digunakan adalah kritikan sastera yakni menggunakan tafsiran terhadap karya sastera dalam menganalisis, sambil melihat konteks yang kompleks untuk memberi pemahaman mengenai bagaimana puisi yang dipilih sesuai dengan pengalaman manusia yang tidak pernah pupus. Pelayaran pengalaman Pasar Pengalaman akan membawa pembaca sedar akan kewujudan falsafah diri T. Alias Taib masih hidup sehingga kini. Teori fenomenologi-rasa akan menjadi sandaran kepada kajian ini yang mana ia akan menjelaskan dua jenis struktur iaitu multi-layered dan quasi temporal. Ini akan ditambahkan lagi dengan penerangan rasa yang dijelaskan Bersama fenomenologi iaitu tuntutan kepada emosi. Proses ini akan memberi jawapan kepada memahami diri penulis puisi yang merupakan teras dan lambang keperibadian beliau dalam dunia serba moden. Diakhir pelayaran pengalaman ini, diharapkan ia menjadi satu titik tolak kepada pemikir di luar sana agar memahami dan menjiwai setiap bait puisi yang dihasilkan dengan rasa hati yang cerdik dan berlapang dada dengan pemahaman diri manusia. Falsafah diri ini merupakan ilmu yang perlu diamalkan kerana ilmu tanpa amal ibarat pokok tanpa buah.
Kata kunci: puisi, sastera, falsafah, diri, fenomenologi-rasa
Abstract
Noise is defined as a state of agitation, hustle, and bustle in which everyone shouts until the atmosphere gets agitated. That's how it feels when you walk into a market. When the author reads T. Alias Taib's Pasar Pengalaman (2004), he has a different feeling. T. Alias Taib's self-philosophy is the market translated in the book Anthology of Market Experience Poetry (2020). This research will travel back in time to the experience that T. Alias Taib had at the time this poem was composed, demonstrating that perhaps the market's noisy scenario remains today. The method that will be used to realize the journey of this study is literary criticism, which is the analysis of literary works using the interpretation of literary works while looking at the complex context to provide an understanding of how the selected poems correspond to the human experience that has never died out. The reader will be made aware of the presence of T. Alias Taib's self-philosophy through the experience journey of the Experience Market. This study's backbone will be the phenomenological-sense theory, which will describe two sorts of structures: multi-layered and quasi-temporal. This will be supplemented with the explanation of taste, as well as phenomenology, or the claim to emotion. This procedure will provide an answer to the poet's self-awareness, which is the center and emblem of his individuality in today's world. It is intended that at the conclusion of this journey of discovery, it will serve as a beginning place for intellectuals to comprehend and enliven each stanza of poetry written with a feeling of creativity and open-heartedness with human self-understanding.
Keywords: Poetry, Literature, Philosophy, Self, Rasa-Phenomenology
References
Aminudin Mansor Zahari Hasib. (April 2012). Penyair kreatif, bersahaja dan kaya pengalaman.
Dewan Sastera. Dipetik daripada http://dwnsastera.dbp.my/?p=1137

Anis Sabirin. (1973). Mengenal puisi. Kuala Lumpur: Dewan Bahasa dan Pustaka &
Kementerian Pelajaran Malaysia.

Aznan Omar & Junidsyazji (2019). 'Gaya hidup digital: Idea dan penghasilan arca awam dalam
projek 'Pulikart' di Iskandar Puteri, Johor Baharu, Johor. Ideology Journal of Arts and Social Science 4(1), m.s 3-12.
Bronner, S. E. (2019). Critical theory: A very short introduction. Oxford University Press.
Dewan Bahasa dan Pustaka. (2017). Puisi.

Djazlam Zainal. (214 Januari 2017). Pentingnya kritikan sastera. Sinar Online. Dipetik daripada
http://www.sinarharian.com.my/rencana/pentingnya-kritikan-sastera-1.611633

Eizah Mat Hussain. (2017). Simbol tumbuhan dalam pantun melayu bingkisan permata. Pendeta
Journal of Malay Language, Education and Literature 8(2017). https://doi.org/10.37134/pendeta.vol8.3.2017
Fadzli Ramli. (24 Februari 2013). Sifat sesumpah politik kekalkan PKR dalam arena politik
Negara. Bernama.
http://lib.perdana.org.my/PLF/News_Online/2013/00042/Bernama%5B24Februari2013%5DSifat%20Sesumpah%20Politik%20Kekalkan%20PKR%20Dalam%20Arena%20Politik%20Negara.pdf
Hashim Awang. (1997). Kritikan kesusasteraan teori dan penulisan. Dewan Bahasa dan
Pustaka.

Junaidi Awang Besar. & Mazlan Ali. (2014). Dari barisan ke pakatan: Berubahnya dinamiks
pilihan raya umum Kuala Lumpur 1955-2013. Malaysia Journal of Society and Space 10 (83 - 98). Dipetik daripada http://journalarticle.ukm.my/7845/1/7a.paper-junaidi.pdf

Lies Wijayanti. (2014). Mozaik: Antologi puisi. Indie Book Corner.

Mana Sikana. (1985). Tanggapan sastera, Kuala Lumpur: Karya Bistari Sdn. Bhd.

Muhammad Hilmi Jalil., Zakaria Stapa., & Raudhah Abu Samah. (2016). Konsep hati menurut
al-Ghazali. Jurnal Reflektika 11(11). Dipetik daripada http://ejournal.idia.ac.id/index.php/reflektika/article/download/37/33

Noor Shakirah Mat Akhir & Muhammad Azizan Sabjan. (2014). Pembangunan modal insan dari
perspektif kerohanian agama: Islam sebagai fokus. Journal of Human Capital Development, 7(1), 33-47. Dipetik daripada http://journal.utem.edu.my/index.php/jhcd/article/viewFile/2137/1284

Peck, J. & Coyle, M. (1993). Literary terms and criticism. Macmillan Publishers Limited.
Puisi Moden. (Januari, 2017). Dewan Bahasa dan Pustaka. Dipetik daripada
http://lamanweb.dbp.gov.my/index.-php/page/view/113

Rahmah Ahmad H. Osman and Mohd Shahrizal Nasir. (2011). Manipulasi peristiwa israk mikraj
dalam Karya sastera arab dan barat: Satu analisis Terhadap al-maqamah al-iblisiyah, al-tawabi' Wa al-zawabi', risalat al-ghufran dan the Divine comedy. Kemanusiaan 18(1), 53–76. Dipetik daripada http://web.usm.my/kajh/vol%2018.1.2011/KAJH%2018.1.2011%204.pdf

Rodliyah Khuza, Irfan Safrudin, & Hendi Suhendi. (2019). The thought of Isma"il Raji al-Faruqi
and its influence in western and islamic civilization. Advances in Social Science, Education and Humanities Research (409). 2nd Social and Humaniora Research Symposium (SoRes 2019).

Rosnani Hashim & Imron Rossidy. (2000). Islamization of Knowledge: A Comparative
Analysis of the Conceptions of AI-Attas and AI-Fariiqi. Intellectual Discourse 8(1), 19-44. Dipetik daripada file:///C:/Users/nurna/Downloads/479-Article%20Text-988-1112-10-20130508.pdf

Samsina Abd. Rahman. (2013). Kembali ke fitrah dalam puisi-puisi Suhaimi Haji Muhammad.
Jurnal Melayu, 11(1), 79-98. Dipetik daripada http://journalarticle.ukm.my/8559/1/5094-12080-1-SM.pdf

Shamsudin Othman, Azhar Md Sabil & Ghazali Lateh. (2015). Pemikiran akal budi dan
sosiobudaya Melayu dalam pendidikan kesusasteraan Melayu. International Journal of Education and Training. (InjET,) 1(2), 1-10. Dipetik daripada http://www.injet.upm.edu.my

Sohaimi Abdul Aziz. (2014). Teori kritis dalam kritikan sastera dan kajian budaya. Dewan
Bahasa dan Pustaka.

Sohaimi Abdul Aziz. (2014). Rasa Fenomenologi: Kritikan Resepsi Pembaca dan Pengalaman Estetik.
Teori kritis dalam kritikan sastera dan kajian budaya. Dewan
Bahasa dan Pustaka.

Syed Muhammad Naquib Al-Attas. (1931). Ma'na kebahagiaan dan pengalaman dalam Islam.
Kuala Lumpur: Institut Antarabangsa Pemikiran dan Tamadun Islam.

T. Alias Taib. (2004). Pasar pengalaman. Dewan Bahasa dan Pustaka.
Tengku Intan Marlina Tengku Mohd Ali. (2018). Teori dan kaedah aplikasi dalam karya. Jurnal

Melayu 17(2) 2018. Dipetik daripada http://journalarticle.ukm.my/13141/1/28678-87579-1-SM.pdf
Toshihiko Izutsu. (2015). Sufisme, samudra akrifat ibn'arabi. Penerbit Mizan.

Zin Mahmud. (2019). Sastera jadi nadi jiwa negara, bangsa. BH Online. Dipetik daripada
https://www.bharian.com.my/kolumnis/2019/06/578185/sastera-jadi-nadi-jiwa-negara-bangsa

Zurakintan Abdul Razak & Che Ibrahim Salleh. (2015). Pemikiran melayu tentang ilmu dan
adab dalam puisi melayu tradisional. International Journal of the Malay World and Civilisation (Iman) 3(2), 121-129. Dipetik daripada https://core.ac.uk/download/pdf/33344506.pdf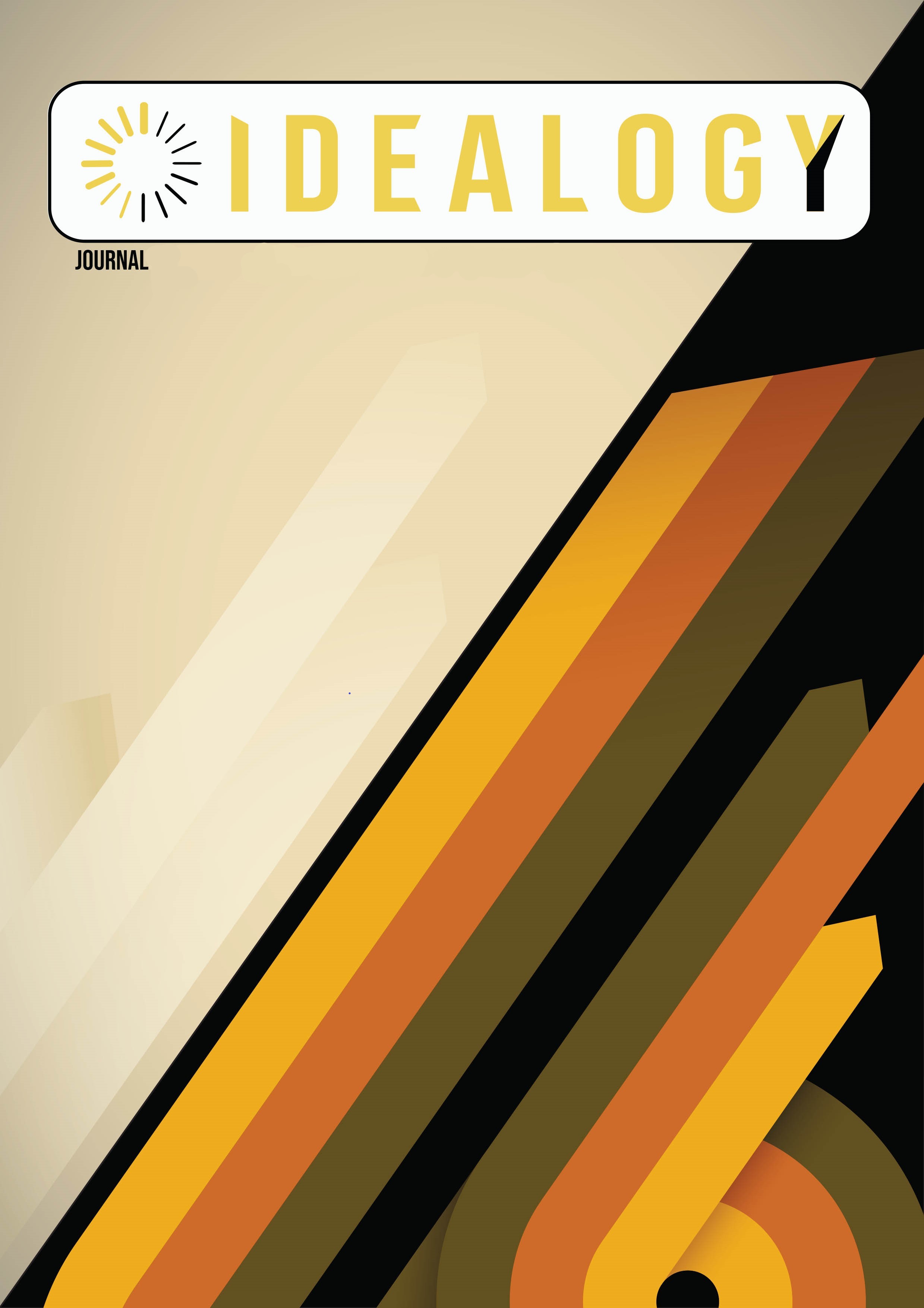 Section
Original Articles
This work is licensed under a Creative Commons Attribution-NonCommercial-NoDerivatives 4.0 International License.
UiTM Press (the Publisher) has agreed to publish the undersigned author's paper in Idealogy Journal. The agreement is contingent upon the fulfilment of a number of requirements listed below.
1. The undersigned author warrants that the paper entitled below is original, that it is not in any way libellous or unlawful in Malaysia, that it does not infringe any copyright or other proprietary right. The undersigned hereby represents and warrants that he/she is the author of the paper, except for material that is clearly identified as to its original source, with permission notices from the copyright owners where required. The undersigned represents that he/she has the power and authority to sign and execute this agreement.
2. The undersigned author warrants that the paper entitled below has not been published elsewhere, and also it will not be submitted anywhere else for publication prior to acceptance/rejection by this Journal.
3. By submitting the paper entitled below, the undersigned author agrees to transfer the rights to publish and distribute the paper in an international e-journal (entitled above) to Publisher.
4. The undersigned author agrees to make a reasonable effort to conform to Publisher's submission guidelines and to liaise with the editor to ensure that the requirements of these guidelines are met to a reasonable degree.
5. The corresponding author signs for and accepts responsibility for releasing this material on behalf of any and all coauthors. This agreement is to be signed by at least one of the authors who has obtained the assent of the co-author(s) where applicable. After submission of this agreement signed by the corresponding author, changes of authorship or in the order of the authors listed will not be accepted.