Tujuan dan Fungsi dalam Konteks Kesusasteraan Rakyat dan Cerita Jenaka Melayu
Purpose and Function in The Context of Folk Literature and Malay Joke Stories
Hazrul Mazran Rusli

Kolej Pengajian Seni Kreatif, Universiti Teknologi MARA, Cawangan Perak, Kampus Seri Iskandar, 32610, Seri Iskandar, Perak, MALAYSIA

Muhammad Abdullah

Kolej Pengajian Seni Kreatif, Universiti Teknologi MARA, Cawangan Perak, Kampus Seri Iskandar, 32610, Seri Iskandar, Perak, MALAYSIA
Abstract
Sastera rakyat pada mulanya wujud dikalangan rakyat. Secara umumnya merujuk kepada kepada kesusasteraan rakyat daripada masa dahulu, yang telah menjadi warisan kepada sesuatu masyarakat. Sastera rakyat adalah sebahagian daripada kehidupan budaya bagi masyarakat lama. Misalnya dalam masyarakat Melayu lama cerita rakyat merupakan satu bentuk hiburan yang penting untuk orang kampung. Cerita jenaka rakyat pula merupakan satu bentuk cerita yang popular dalam kalangan rakyat, yang menjadi hiburan penting di dalam masyarakat berkenaan. Dalam masyarakat Melayu, juga terdapat pelbagai jenis cerita rakyat yang lain seperti cerita binatang, cerita jenaka, cerita penglipur lara dan cerita pengalaman. Cerita jenaka rakyat juga sebagai ekspresi budaya suatu masyarakat melalui pertuturan yang berhubung langsung dengan berbagai-bagai aspek budaya, seperti agama dan kepercayaan, undang-undang, kegiatan ekonomi, sistem kekeluargaan, dan susunan nilai sosial masyarakat tersebut. Kajian ini memfokuskan kepada tinjauan pada dua aspek utama iaitu tujuan dan fungsi seperti definisi, makna dan ciri-ciri umum. Tinjauan ini memberikan pemahaman dan strukturnya, selain dokumentasi bertulis yang penting terhadap sejarah dan kesusasteraan melayu khususnya di Malaysia.
Kata Kunci: Kesusasteraan rakyat, Cerita jenaka melayu
Folk literature initially existed among the people. In general, it refers to folk literature from the past, which has become the heritage of a society. Folk literature is part of the cultural life of ancient societies. For example, in the old Malay society, folklore is an important form of entertainment for the villagers. People's jokes are a form of stories that are popular among the people, which become an important entertainment in the society. In the Malay community, there are also various other types of folk stories such as animal stories, funny stories, comforting stories and stories of experiences. Malay joke stories are also an expression of a society's culture through speech that is directly related to various aspects of culture, such as religion and belief, law, economic activities, family systems, and the order of social values of the society. This research is attentions on two main aspects which are purpose and function such as definition, meaning and general characteristics. This research provides an understanding and structure, in addition to important documentation of Malay history and literature, especially in Malaysia.
Keywords: Folk Literature, Malay Joke Stories
References
Danandjaja, J. (1986). Folklor Indonesia. Jakarta: Grafiti Pers.

Harun Mat Piah, Ismail Hamid, Siti Hawa Salleh, Abu Hassan Sham, Abdul Rahman Kaeh, Jamilah Ahmad, et al. (2002). Kesusasteraan Melayu Tradisional Edisi Kedua. Kuala Lumpur: Perpustakaan Negara Malaysia.

Ismail Yusoff, (2008), Kesusasteraan Melayu Lama dan Baru,Sintok, Universiti Utara Malaysia.

Kamus Dewan Edisi Ketiga (2002), Kuala Lumpur, Dewan Bahasa dan Pustaka.

Mohd. Khalid Taib, (1983). Lagenda-Lagenda Nama Tempat dan Orang Terkenal di Semenanjung Malaysia. Kertas kerja Bengkel Tradisi Lisan Bercorak Cerita, Kuala Lumpur.

Mohd. Taib Osman, (1972). The Aims, Approach and Problems In The Study Folk Literature or Oral Traditions. Dlm The Brunei Museum, Jurnal 2:4 hlm 159-164.

Mohd. Taib Osman, (1988). Dlm Hamzah Hamdani (ed.). Pemikiran Sastera Nusantara. Kuala Lumpur: Dewan Bahasa dan Pustaka.
Mohd. Taib Osman, Hassan Ahmad (ed), (2007). Cerita Jenaka Melayu, Kuala Lumpur, Yayasan Karyawan.

Safian Hussain, (1988). Glossari Istilah Kesusasteraan. Kuala Lumpur: Dewan Bahasa dan Pustaka.

Shahnon Ahmad, (1991). Sastera Sebagai Seismograf Kehidupan. Kuala Lumpur: Dewan Bahasa dan Pustaka.

Shamsul Amri Baharudin, (2009). Tampannya Budi. Dlm Pameran Tampannya Budi. Kuala Lumpur: Balai Seni Visual Negara.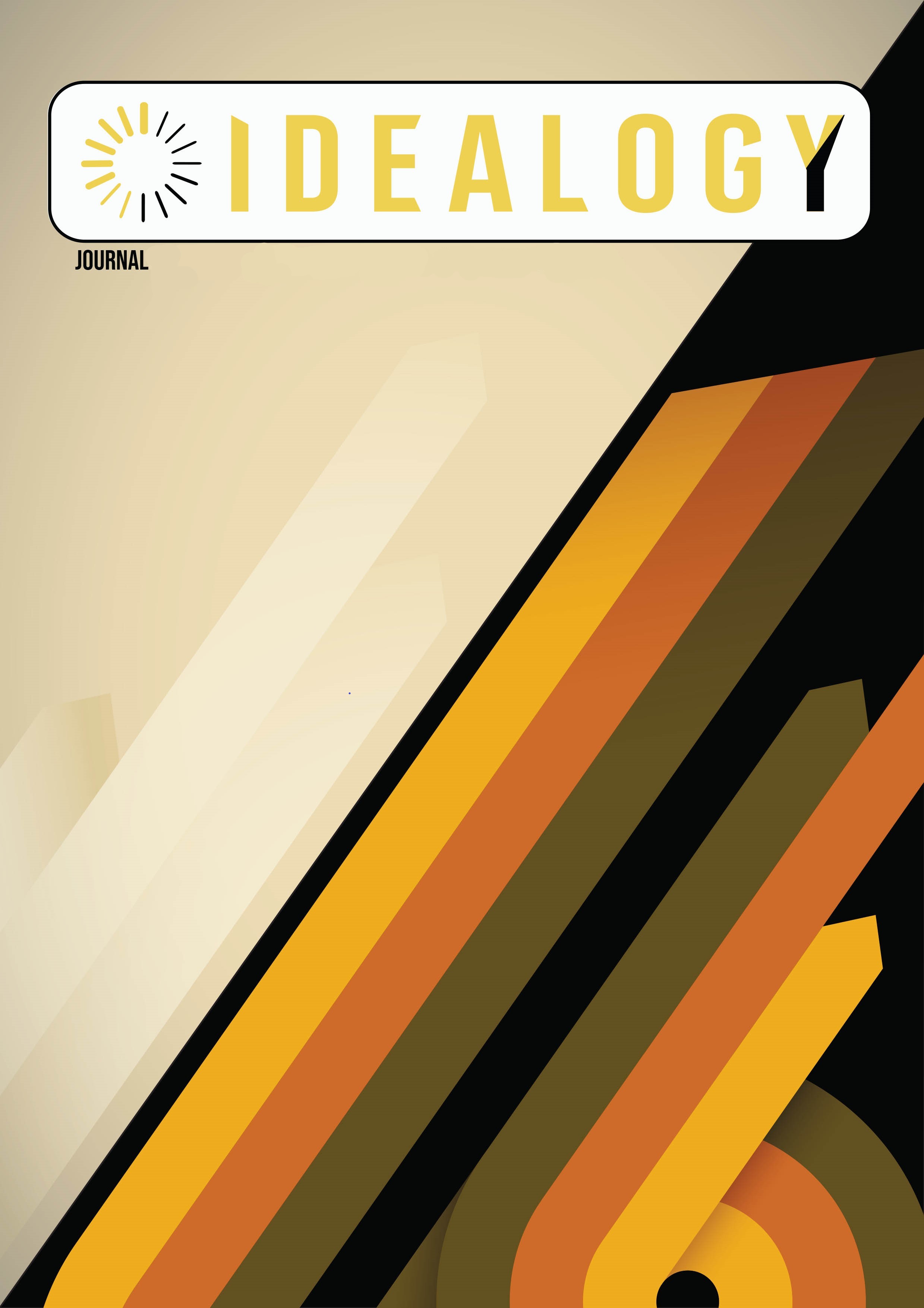 Section
Artwork and Exhibition Appreciation
This work is licensed under a Creative Commons Attribution-NonCommercial-NoDerivatives 4.0 International License.
UiTM Press (the Publisher) has agreed to publish the undersigned author's paper in Idealogy Journal. The agreement is contingent upon the fulfilment of a number of requirements listed below.
1. The undersigned author warrants that the paper entitled below is original, that it is not in any way libellous or unlawful in Malaysia, that it does not infringe any copyright or other proprietary right. The undersigned hereby represents and warrants that he/she is the author of the paper, except for material that is clearly identified as to its original source, with permission notices from the copyright owners where required. The undersigned represents that he/she has the power and authority to sign and execute this agreement.
2. The undersigned author warrants that the paper entitled below has not been published elsewhere, and also it will not be submitted anywhere else for publication prior to acceptance/rejection by this Journal.
3. By submitting the paper entitled below, the undersigned author agrees to transfer the rights to publish and distribute the paper in an international e-journal (entitled above) to Publisher.
4. The undersigned author agrees to make a reasonable effort to conform to Publisher's submission guidelines and to liaise with the editor to ensure that the requirements of these guidelines are met to a reasonable degree.
5. The corresponding author signs for and accepts responsibility for releasing this material on behalf of any and all coauthors. This agreement is to be signed by at least one of the authors who has obtained the assent of the co-author(s) where applicable. After submission of this agreement signed by the corresponding author, changes of authorship or in the order of the authors listed will not be accepted.