Translating Traditional Malay Pottery Motifs To Inspire Ceramic Surface Decoration Design
Siti Maryam Ali Yasin

Faculty of Art and Design, Universiti Teknologi MARA, Perak Branch, Seri Iskandar Campus, Malaysia

Hamdzun Haron

Pusat Citra Universiti, Universiti Kebangsaan Malaysia, 43600 UKM Bangi, Selangor, Malaysia

Zuliskandar Ramli

Institut Alam dan Tamadun Melayu, Universiti Kebangsaan Malaysia, 43600 UKM Bangi, Selangor, Malaysia

Suhaimi Tular

Faculty of Art and Design, Universiti Teknologi MARA, Perak Branch, Seri Iskandar Campus, Malaysia

Hanafi Mohd Raffie

Faculty of Art and Design, Universiti Teknologi MARA, Perak Branch, Seri Iskandar Campus, Malaysia
Abstract
A particular ceramic product offered by the designers and manufacturers is measured based on its appearance and performance from aesthetic value, design and craftsmanship quality. Products in our daily life play an essential role in bringing us happiness, comfort, convenience and satisfaction to the consumers and buyers.  In a Malay community in Malaysia, the Malay Traditional Pottery is one of the Malay arts heritage.  Its products used to have a high demand among the locals as well as people from abroad.  However, today,  demand for Malay Traditional Pottery from the locals has declined significantly. Hence, to improve the product appearance, this study highlights one of the essential factors in ceramic design features, namely surface decoration, by using motifs derived from the Malay Traditional Pottery onto the new contemporary design of the local ceramic products. The surface decoration consists of motifs, patterns, colours, techniques and materials. Surface decoration study would give designers and local ceramic entrepreneurs the product appearance improvement. With such improvements, local ceramic products would become a preferred choice for the consumer's daily use. This study also aimed to entice the designer to be involved in pattern design and ceramic product surfaces.

Keywords
Surface decoration, Ceramic product, motif, Pattern, Malay Traditional Pottery

References
Akbari, Z. (2014). The dilemma of flavor, shape and color in the choice of packaging by children. International Journal of Academic Research in Business and Social Sciences, 4(1), 386.

Goode A. B. (2013). Printed Textile Design. United Kingdom: Laurence King Publishing.

Hamdzun Haron. (2013). Akal Rekaan Pandai Seni Warisan Melayu. Selangor: Institut Alam dan Tamadun Melayu.

Hamdzun Haron & Narimah Abd Mutalib. (2015). Kraf tradisional melayu: makna simbolik motif alam semulajadi. Prosiding Seminar Antarabangsa ke 4 Arkeologi, Sejarah dan Budaya di Alam Melayu. 189-200.

Hamer F., & Hamer J. (1996). The Potter's Dictionary of Materials and Techniques (4th ed.) London: University of Pennsylvania Press.

Hopper, R. (2013). Making marks discovering the ceramic surface. Ohio, USA: The American Ceramic Society.

Malaysian Cultural Congress (2017). Congress. Universiti Kebangsaan Malaysia, Selangor, Malaysia.

Baharom, M., & Abdul Jamil, S. (2021). Studio Project on the Sculpture Entitled Retrospection and Prodigy Series. Idealogy Journal, 6(1), 27-34. doi:10.24191/idealogy.v6i1.251

(Mohammad Radzi Ismail). personal communication, 18 November 2016).

Newall, D. Unwin, C. (2011). The chronology of pattern: Pattern in art from lotus flower to flower power. Oxford London, United Kingdom: A & C Black.

Ocvirk, O.G., Stinson, R.E., Wigg, P.R., Bone, R.O. & Cayton D.L. (2002). Art fundamentals: theory and practice (9th ed.) New York: McGraw-Hill Higher Education.

Phaholthep, C., & Sahachaisaeree, N. (2012). Transforming Value of Vernacular Artifacts into Modern Utensils: A Case of Sukhothai Tableware. Procedia-Social and Behavioral Sciences, 50, 123-134.

Russell, A. (2011). The Fundamentals of Printed Textile Design. Lausanne, Switzerland: AVA Publishing.

(Rozana Musa. Personal communication, 18 November 2016).

Syed Ahmad Jamal. (1992). Rupa dan jiwa. Kuala Lumpur, Malaysia: Dewan Bahasa dan Pustaka.

Taylor, B. & Doody K. (2014). Ceramic glazes. London, United Kingdom: Quarto Publishing.

Yağmur, Ö., & Yeşilyurt, F. (2012). A Study on Modern Jewelry Designed with Traditional Turkish Ceramics and Women's Acceptance of This Jewelry. Atatürk Üniversitesi Sosyal Bilimler Enstitüsü Dergisi, 16(2).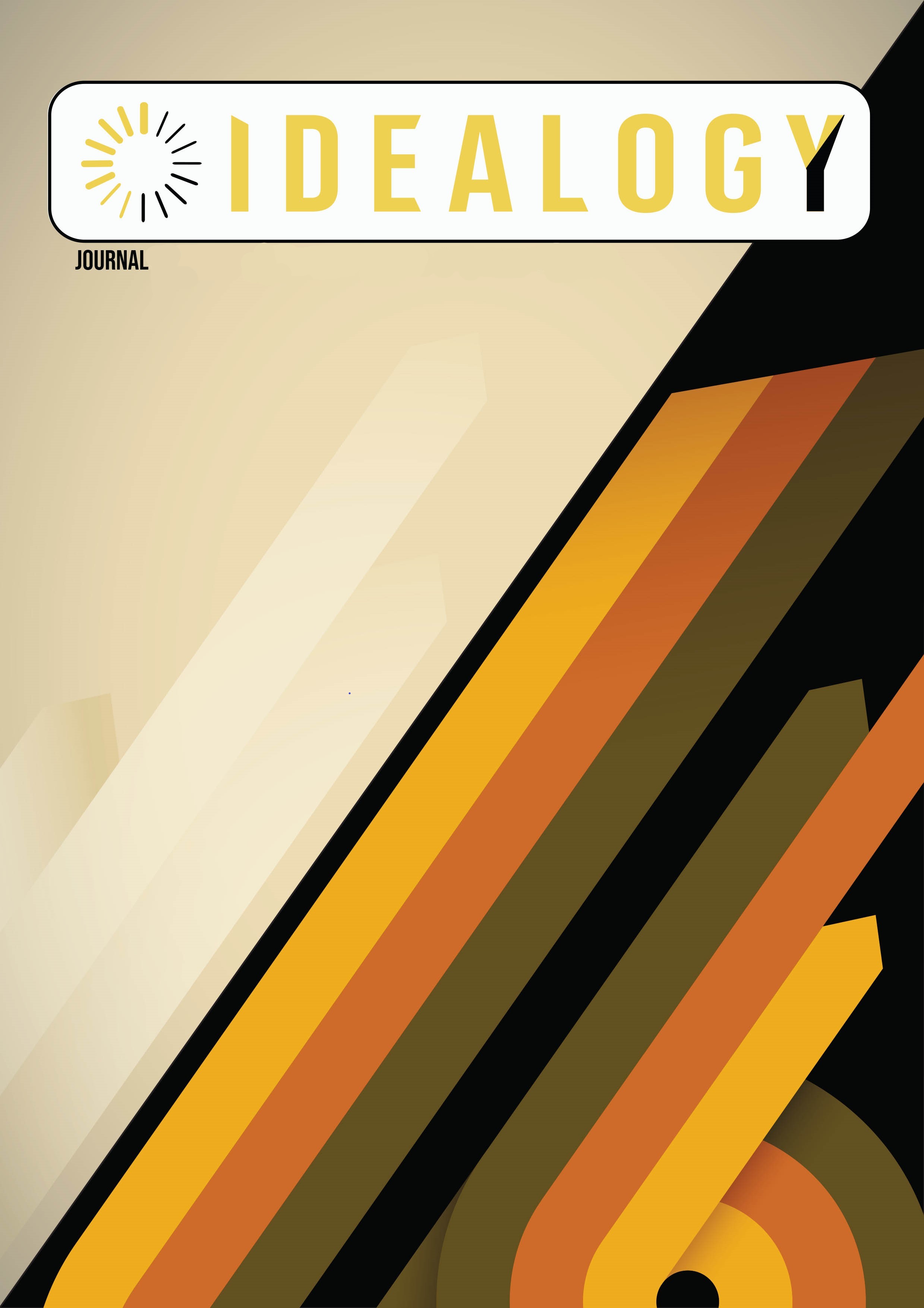 Section
Original Articles
UiTM Press (the Publisher) has agreed to publish the undersigned author's paper in Idealogy Journal. The agreement is contingent upon the fulfilment of a number of requirements listed below.
1. The undersigned author warrants that the paper entitled below is original, that it is not in any way libellous or unlawful in Malaysia, that it does not infringe any copyright or other proprietary right. The undersigned hereby represents and warrants that he/she is the author of the paper, except for material that is clearly identified as to its original source, with permission notices from the copyright owners where required. The undersigned represents that he/she has the power and authority to sign and execute this agreement.
2. The undersigned author warrants that the paper entitled below has not been published elsewhere, and also it will not be submitted anywhere else for publication prior to acceptance/rejection by this Journal.
3. By submitting the paper entitled below, the undersigned author agrees to transfer the rights to publish and distribute the paper in an international e-journal (entitled above) to Publisher.
4. The undersigned author agrees to make a reasonable effort to conform to Publisher's submission guidelines and to liaise with the editor to ensure that the requirements of these guidelines are met to a reasonable degree.
5. The corresponding author signs for and accepts responsibility for releasing this material on behalf of any and all coauthors. This agreement is to be signed by at least one of the authors who has obtained the assent of the co-author(s) where applicable. After submission of this agreement signed by the corresponding author, changes of authorship or in the order of the authors listed will not be accepted.