More Thank Child's Play: Tackling Speech Anxiety Among Malaysian ESL Learners Through Gamification
Mia Emily Abdul Rahim

Academy of Language Studies, Universiti Teknologi MARA Cawangan Terengganu Kampus Dungun, 23000 Dungun, Terengganu, MALAYSIA

Emma Marini Abdul Rahim

Academy of Language Studies, Universiti Teknologi MARA Cawangan Terengganu Kampus Dungun, 23000 Dungun, Terengganu, MALAYSIA

Nurul Amilin Razawi

Academy of Language Studies, Universiti Teknologi MARA Cawangan Terengganu Kampus Dungun, 23000 Dungun, Terengganu, MALAYSIA

Nuruladilah Mohamed

Academy of Language Studies, Universiti Teknologi MARA Cawangan Terengganu Kampus Dungun, 23000 Dungun, Terengganu, MALAYSIA
Abstract
When second language learners have language anxiety especially when they are using the speaking skills, they are more likely to experience anxiety, self-doubt, frustration, and fear that will affect their ability to learn the languages. However, based on previous research, it is shown that learners' anxiety over public speaking significantly decreased when gamification was included in the classroom. Therefore, in this study, the main objective was to explore the students' perception towards the gamification setting in reducing speech anxiety among UiTM students. The study employs a quantitative study with 221 participants consisting of undergraduates from various faculties in UiTM. A descriptive analysis was used to analyze the data. From the results, it is found that most of the students experienced a level of anxiety in the beginning despite using the virtual gamification setting. However, they believe that the virtual speech application helped them in getting an improved positive experience when delivering a speech, particularly in easing their anxiousness upon speaking in front of an audience.
Keywords: speech anxiety, English as a Second Language (ESL), gamification, virtual reality
References
Abadi, A. H. O., Feroz, F. S., Raus, E. Z. M., Devi, S. I., & Subramaniam, S.K. (2022). The Effects of Gamification on Undergraduate Engineers' Public Speaking Anxiety and Competency. Hong Kong journal of Social Sciences, 59. https://www.researchgate.net/publication/362387337_ The_Effects_of_Gamification_on_Undergraduate_Engineers'_Public_Speaking_Anxiety_and_Competency

Badrasawi, K. J. I., Solihu, A., & Ahmad, B. (2020). Second Language Speaking Anxiety Among Malaysian Postgraduate Students at a Faculty of Education. International Journal of Education & Literacy Studies, 8(2). https://www.researchgate.net/publication/341436526_Second_ Language_ Speaking_Anxiety_Among_Malaysian_Postgraduate_Students_at_a_Faculty_of_Education

Bucklew. (1980). Paradigms for Psychology: A Contribution to case History Analysis. New York: J. B. Lippen Cott Company

Caponnetto, P., Triscari, S., Maglia, M., & Quattropani, M. (2021). The Simulation Game—Virtual Reality Therapy for the. International Journal of Environmental Research and Public Health.

Castillo-Parra, B., Hidalgo-Cajo, B. G., Vásconez-Barrera, M., & Oleas-López, J. (2022). Gamification in higher education: A review of the literature. World Journal on Educational Technology: Current Issues, 14(3).

Chen, Y., Zhang, L., & Yin, H. (2022). A Longitudinal Study on Students' Foreign Language Anxiety and Cognitive Load in Gamified Classes of Higher Education. Sustainability, 14. https://doi.org/10.3390/su141710905

Darmi, R., & Albion, P. (2014). Assessing The Language Anxiety of Malaysian Undergraduate English Language Learners [Proceeding of the Global Conference on Language Practice & Information Technology (GLIT 2014)]. Kota Kinabalu, Sabah. https://core.ac.uk/download/pdf/ 211496844.pdf

Deterding, S., Dixon, D., Khaled, R., & Nacke, L. (2011). From game design elements to gamefulness: defining "gamification." MindTrek, 9–15. doi:10.1145/2181037.2181040

Dorner, L., Cervantes-Soon, C. (2020). Equity For Students Learning English in Dual Language Bilingual Education: Persistent Challenges and Promising Practices. TESOL Quarterly, 3(54), 535-547. https://doi.org/10.1002/tesq.599

Franklin, A., & Jacobs, E. (2020). Gamification In Presentation And Testing And Their Effect On Performance. Issues in Information Systems, 21(2), pp. 248-258. https://iacis.org/iis /2020/2_iis_2020_248-258.pdf

Kaplan-Rakowski, R. & Gruber, A., (2023). The Impact of High-Immersion Virtual Reality on Foreign Language Anxiety. SSRN. https://dx.doi.org/10.2139/ssrn.3882215

Horwitz, E. K. (2001). Language anxiety and achievement. Annual Review of Applied Linguistics, 21, 112-126. http://dx.doi.org/10.1017/S0267190501000071

Horwitz, E.K., Horwitz, M.B. and Cope, J. (1986), Foreign Language Classroom Anxiety. The Modern Language Journal, 70(2): 125-132. https://doi.org/10.1111/j.1540-4781.1986.tb05256.x

Hwa, S. P., & Peck, W. K. (2017). Gender Differences in Speaking Anxiety Among English As A Second language Learners In A Malaysian Tertiary Context. Page 1 International Journal for Studies on Children, Women, Elderly and Disabled, 2. https://www.ijcwed.com/wp-content/uploads/2017/06/IJCWED2_85.pdf

Jie, Y. X., Zakaria, A. Z., & Hassan, H. (2023). The Use of Gamification in Enhancing Students Engagement and Performance in ESL Speaking Lessons. International Journal of Academic Research in Business and Social Sciences, 13(1), 479–503.

Khairani, R. G. M. (2019). An Experiment of Public Speaking Anxiety on College Students. In ICPsy 2019 - International Conference on Psychology. https://www.scitepress.org/Papers/2019/94339/ 94339.pdf

Kırkgöz, Y. (2008). Globalization and English Language Policy In Turkey. Educational Policy, 5(23), 663-684. https://doi.org/10.1177/0895904808316319

Koshy, B. (2020). Xenoglossophobia among second language learners. International Journal of Creative Research Thought, 8(2). https://www.researchgate.net/publication /341030475_ XENOGLOSSOPHOBIA_AMONG_SECOND_LANGUAGE_LEARNERS

Licorish, S. A., Owen, H. E., Daniel, B., & Li, J. G. (2018). Students' perception of Kahoot!'s influence on teaching and learning. Research and Practice in Technology Enhanced Learning, 13(9). https://telrp.springeropen.com/articles/10.1186/s41039-018-0078-8#Fn1

Llurda, E. (2004). Non-native-speaker Teachers and English as An International Language. Int J Applied Linguistics, 3(14), 314-323. https://doi.org/10.1111/j.1473-4192.2004.00068.x

Louhiala-Salminen, L., Kankaanranta, A. (2011). Professional Communication In a Global Business Context: The Notion Of Global Communicative Competence. IEEE Trans. Profess. Commun., 3(54), 244-262. https://doi.org/10.1109/tpc.2011.2161844

Lyu, Y. (2019). Using Gamification and Augmented Reality to Encourage Japanese Second Language Students to Speak English [Dissertation]. http://www.divaportal.org/ smash/get/diva2:1416017/ FULLTEXT01.pdf

McCroskey, J. C. (1970). Measures of communication-bound anxiety. Speech Monographs, 37. http://www.jamescmccroskey.com/measures/prpsa.htm

Nazligul, M. D., Yilmaz, M., Gulec, U., Yilmaz, A.E., Isler, V., Connor, R.V. O., Gozcu, M.A., & Clarke, P. (2019). Interactive Three-Dimensional Virtual Environment To Reduce The Public Speaking Anxiety Levels Of Novice Software Engineers. The Institution of Engineering and Technology Journal, 13(2). https://ietresearch.onlinelibrary.wiley.com/doi/epdf/10.1049/iet-sen.2018.5140

Ntombela, B. (2023). The Sociolinguistic Problems Of English Medium Instruction In the Middle East And North Africa: Implications For Epistemic Access. Front. Psychol., (14). https://doi.org/10.3389/fpsyg.2023.1084626

Perez-Firmat, G. (2003). Tongue ties: Logo-eroticism in Anglo-Hispanic literature. (1). https://doi.org/10.1057/9781403980922

Phillipson, R. (2012). English: From British Empire To Corporate Empire. SOLS, 3(5), 441-464. https://doi.org/10.1558/sols.v5i3.441

Ramlie, M. K., Rahaman, A. A., Ahmad, A. K. A., & Abdullah, M. (2023). Inovasi Kaedah Pembelajaran: Perkembangan Penggunaan Teknologi Dalam Institusi Pendidikan. Idealogy Journal, 8(1), 94-103. https://doi.org/10.24191/idealogy.v8i1.407

Snijder, R. (2022). Big In Japan, Zimbabwe or Brazil – Global Reach And National Preferences For Open Access Books. Insights the Uksg Journal, (35). https://doi.org/10.1629/uksg.580

Tagie, G., Merman, H., Taharuddin, N. S., Johari, R. (2023). Correlation of Interactive Learning and Students' Intellectual Emotion. Idealogy Journal, 8(1), 160-175. https://doi.org/10.24191/idealogy.v8i1.419

Thuy, N. T. T., & Hung, L. N. Q. (2021). Teachers' Perceptions of using Gamification Apps in Teaching Speaking Skill to EFL Young Learners. International Journal of Science and Management Studies (IJSMS), 4(5). https://ijsmsjournal.org/2021/volume-4%20issue-5/ijsms-v4i5p108.pdf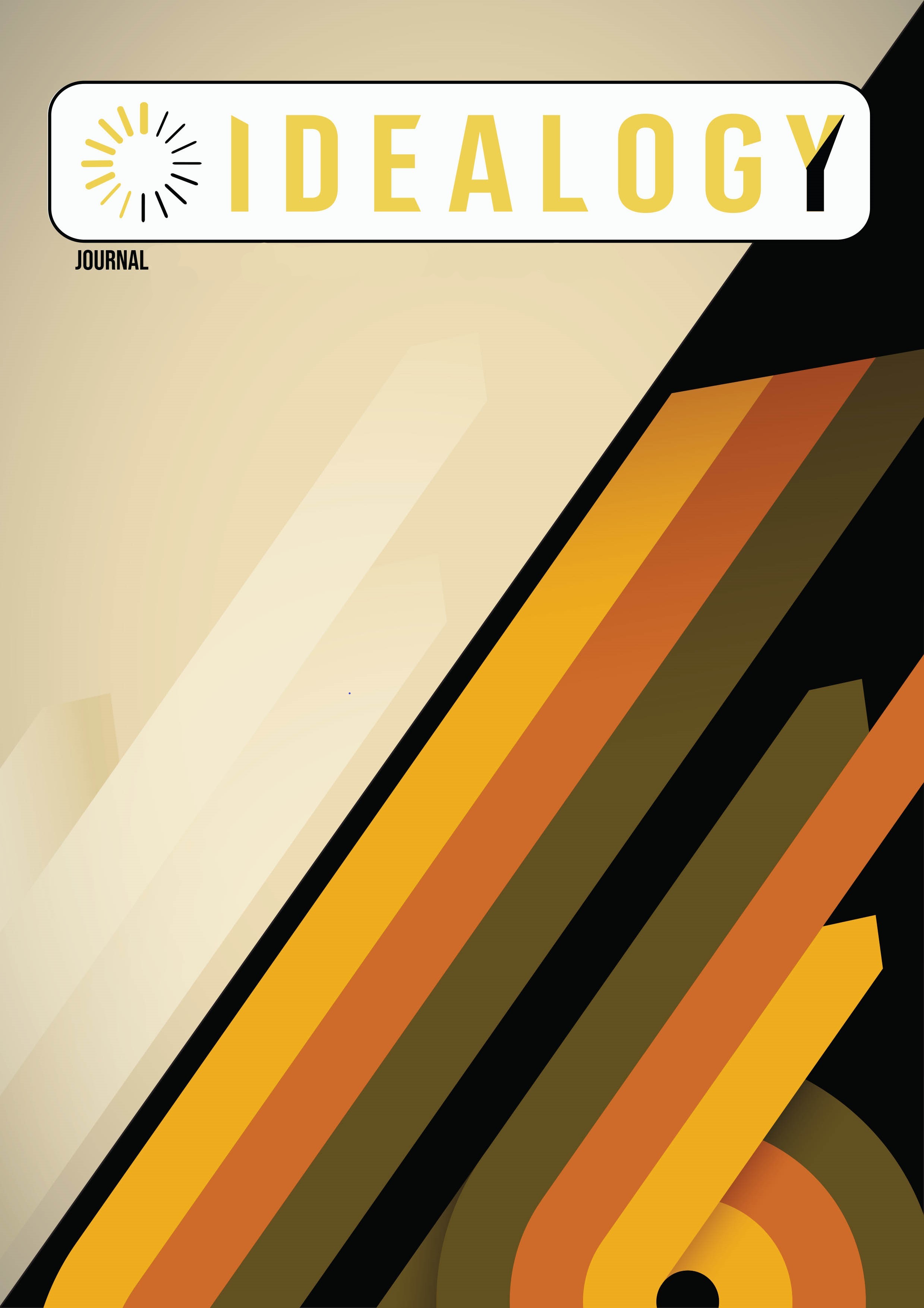 This work is licensed under a Creative Commons Attribution-NonCommercial-NoDerivatives 4.0 International License.
UiTM Press (the Publisher) has agreed to publish the undersigned author's paper in Idealogy Journal. The agreement is contingent upon the fulfilment of a number of requirements listed below.
1. The undersigned author warrants that the paper entitled below is original, that it is not in any way libellous or unlawful in Malaysia, that it does not infringe any copyright or other proprietary right. The undersigned hereby represents and warrants that he/she is the author of the paper, except for material that is clearly identified as to its original source, with permission notices from the copyright owners where required. The undersigned represents that he/she has the power and authority to sign and execute this agreement.
2. The undersigned author warrants that the paper entitled below has not been published elsewhere, and also it will not be submitted anywhere else for publication prior to acceptance/rejection by this Journal.
3. By submitting the paper entitled below, the undersigned author agrees to transfer the rights to publish and distribute the paper in an international e-journal (entitled above) to Publisher.
4. The undersigned author agrees to make a reasonable effort to conform to Publisher's submission guidelines and to liaise with the editor to ensure that the requirements of these guidelines are met to a reasonable degree.
5. The corresponding author signs for and accepts responsibility for releasing this material on behalf of any and all coauthors. This agreement is to be signed by at least one of the authors who has obtained the assent of the co-author(s) where applicable. After submission of this agreement signed by the corresponding author, changes of authorship or in the order of the authors listed will not be accepted.