Systematic Review on The Integration of Universal Design in Architectural Outdoor Environments of Higher Educational Institutions
Mohamad Redhuan Ramli

Faculty of Design and Architecture, Universiti Putra Malaysia, Serdang, Selangor, Malaysia

Noranita Mansor

Faculty of Design and Architecture, Universiti Putra Malaysia, Serdang, Selangor, Malaysia

Mohamad Fakri Zaky Ja'afar

Faculty of Design and Architecture, Universiti Putra Malaysia, Serdang, Selangor, Malaysia

Mohammad Mujaheed Hassan

Faculty of Human Ecology, Universiti Putra Malaysia, Serdang, Selangor, Malaysia

Ishak Ramli

Islamic Research on Art, Design and Humanities (IRADAH) Research Interest Group, Universiti Teknologi MARA, Shah Alam, Selangor, Malaysia
Abstract
Universities are a critical place for preparing humans for their future endeavours because they provide the necessary knowledge and skills for personal and professional growth. However, inadequate accessibility for students with disabilities (SWDs) has hindered them from fully participating in any university programmes that cause of lack connectivity in High Educational Institution (HEI) campuses area. With the growing numbers of SWDs, HEI should be freely access without any discrimination regarding to the physical environment. Therefore, this article will review the current literature on integration of Universal Design (UD) in HEI for the past 15 years. It is thought that the information and knowledge presented in this review can aid higher education institutions in creating a more inclusive environment to support students with disabilities (SWDs) during their campus life. A list of keywords (UD theory and principles, Students with Disabilities, Accessibility in HEI, and Outdoor environments) related to the scope of this research was identified. In the second step, the keyword for studies on Scopus and WoS were searched, and total of 20 papers were reviewed. A themed review was carried out, where 33 sub-themes were identified based on the keywords. The result suggests a new accessibility model for the integration of UD in architectural environments. This study will benefit future researchers that focus on outdoor environment with the integration of UD theory.

Keywords: Universal Design (UD), Student with Disabilities (SWDs), High Educational Institution (HEI), Outdoor Environment
References
Boeri, A., Longo, D., Orlandi, S., Roversi, R., & Turci, G. (2020). Temporary transformations to access and experience sustainable city public spaces. WIT Transactions on Ecology and the Environment, 249, 43–55. https://doi.org/10.2495/SC200051

Bozkurt, F. (2021). Outdoor Social Studies Experiences of Teacher Candidates. JOURNAL OF QUALITATIVE RESEARCH IN EDUCATION-EGITIMDE NITEL ARASTIRMALAR, 28, 183–203. https://doi.org/10.14689/enad.28.8

Colin Barnes. (2006). Disability, Higher Education and The Inclusive Society.

Delnevo, G., Monti, L., Vignola, F., Salomoni, P., & Mini, S. (2018). AlmaWhere: a Prototype of Accessible Indoor Wayfinding and Navigation System. 2018 15TH IEEE ANNUAL CONSUMER COMMUNICATIONS & NETWORKING CONFERENCE(CCNC).

Dinc Uyaroglu, I. (2021). A Performance Evaluation Tool for Inclusiveness in University Campus Outdoor Spaces. MEGARON, 16(2), 197–211. https://doi.org/10.14744/MEGARON.2021.35336

Edwards, R. C., & Larson, B. M. H. (2022). Accounting for diversity: Exploring the inclusivity of recreation planning in the United Kingdom's protected areas. LANDSCAPE AND URBAN PLANNING, 221. https://doi.org/10.1016/j.lurbplan.2022.104361

Eldridge, D., Smith, D., Vaughan, S., & Feng, L. (2022). Designing and implementing a Learning Development Outdoors component for an MSc in HRD. Human Resource Development International. https://doi.org/10.1080/13678868.2022.2080997

Gasparovic, S., & Sladovic, M. (2021). Towards a More Walkable City - Case Study Savska Street in Zagreb. In F. Giofre & S. Halilovic-Terzic (Eds.), MAKING HEALTHY CITIES FOR PEOPLE (HURBE2021): EDUCATION, RESEARCH, PRACTICE IN PLANNING, ARCHITECTURE AND ENGINEERING.

Lawrence, D. (2021). Outdoor Campus Recreation, Well-Being, and the Intersectionality of Constraints Comment. JOURNAL OF OUTDOOR RECREATION EDUCATION AND LEADERSHIP, 13(4), 54–59. https://doi.org/10.18666/JOREL-2021-V13-I4-10930

Muhammad, S., Syed Jaafar, R., Maarof, R., Hisam, M. J., Nor, N., & Annysa Husin, F. (2020). Inclusion Setting for Disabilities in Higher Education: A Systematic Review of Issues and Challenges in Disabilities Research.

Nah, K.-O., & Lee, S.-M. (2016). Actualizing children's participation in the development of outdoor play areas at an early childhood institution. Action Research, 14(3), 335–351. https://doi.org/10.1177/1476750315621610

Ozdemir, S., & Sungur, A. (2022). A model proposal for university campuses in the context of inclusive design. A/Z ITU Journal of the Faculty of Architecture, 19(2), 301–304. https://doi.org/10.5505/itujfa.2022.92342

Parker, A. T., Swobodzinski, M., Wright, J. D., Hansen, K., Morton, B., & Schaller, E. (2021). (SLR) Wayfinding Tools for People With Visual Impairments in Real-World Settings: A Literature Review of Recent Studies. FRONTIERS IN EDUCATION, 6. https://doi.org/10.3389/feduc.2021.723816

Porto, M., Tavella, G., & Fernandez, C. (2022). Undoing inequalities: inclusive and transformative language practices in rural Argentinian Patagonia. INTERNATIONAL JOURNAL OF BILINGUAL EDUCATION AND BILINGUALISM, 25(10), 3597–3613. https://doi.org/10.1080/13670050.2022.2067979

Prandi, C., Delnevo, G., Salomoni, P., & Mirri, S. (2021). On supporting university communities in indoor wayfinding: An inclusive design approach. Sensors, 21(9). https://doi.org/10.3390/s21093134

Rafferty, J. M. (2011). Design of outdoor and environmentally integrated learning spaces. In Physical and Virtual Learning Spaces in Higher Education: Concepts for the Modern Learning Environment. https://doi.org/10.4018/978-1-60960-114-0.ch004

Rahim, A. A., Amirah, N., & Samad, A. (2010). Accessible Built Environment for the Elderly and Disabled in Malaysia: Hotels as Case Studies. In Journal of Construction in Developing Countries (Vol. 15, Issue 2).

Rantanen, T., Ayravainen, I., Eronen, J., Lyyra, T., Tormakangas, T., Vaarama, M., & Rantakokko, M. (2015). The effect of an outdoor activities' intervention delivered by older volunteers on the quality of life of older people with severe mobility limitations: a randomized controlled trial. AGING CLINICAL AND EXPERIMENTAL RESEARCH, 27(2), 161–169. https://doi.org/10.1007/s40520-014-0254-7

Samsudin, S., Kamalden, T. F. T., Aziz, A., Ismail, H., & Ujang, A. F. (2019). Effectiveness of outdoor education program on physical education student resilience. International Journal of Innovation, Creativity and Change, 9(12), 218–229.

Shaffril, H. A. M., Krauss, S. E., & Samsuddin, S. F. (2018). A systematic review on Asian's farmers' adaptation practices towards climate change. In Science of the Total Environment (Vol. 644, pp. 683–695). Elsevier B.V. https://doi.org/10.1016/j.scitotenv.2018.06.349

Torkildsby, A. B. (2017). CRITICAL DESIGN - A NEW PARADIGM FOR TEACHING AND LEARNING UNIVERSAL DESIGN. In A. Berg, E. Bohemia, L. Buck, T. Gulden, A. Kovacevic, & N. Pavel (Eds.), BUILDING COMMUNITY: DESIGN EDUCATION FOR A SUSTAINABLE FUTURE (pp. 26–31).

Van Eck, E., Watson, S., Van Melik Rianne and Breines, M., Dahinden, J., Jonsson, G., Lindmaee, M., Madella, M., Menet, J., & Schapendonk, J. (2022). Moving marketplaces: Understanding public space from a relational mobility perspective. CITIES, 127. https://doi.org/10.1016/j.cities.2022.103721

Wilson, S. (2018). A Campus Connected: An Analysis of University Outdoor Spaces. https://dc.etsu.edu/honors/662

Xu, R., Liu, Y., Mu, T., Ye, Y., & Xu, C. (2022). Determining the association between different living arrangements and depressive symptoms among over-65-year-old people: The moderating role of outdoor activities. FRONTIERS IN PUBLIC HEALTH, 10. https://doi.org/10.3389/fpubh.2022.954416

Ytterhus, B., & Åmot, I. (2021). Kindergartens: inclusive spaces for all children? International Journal of Inclusive Education. https://doi.org/10.1080/13603116.2021.1950976

Yusmarhaini Yusof, C. C. C. A. H. H. (2019). Improving inclusion of students with disabilities in Malaysian higher education.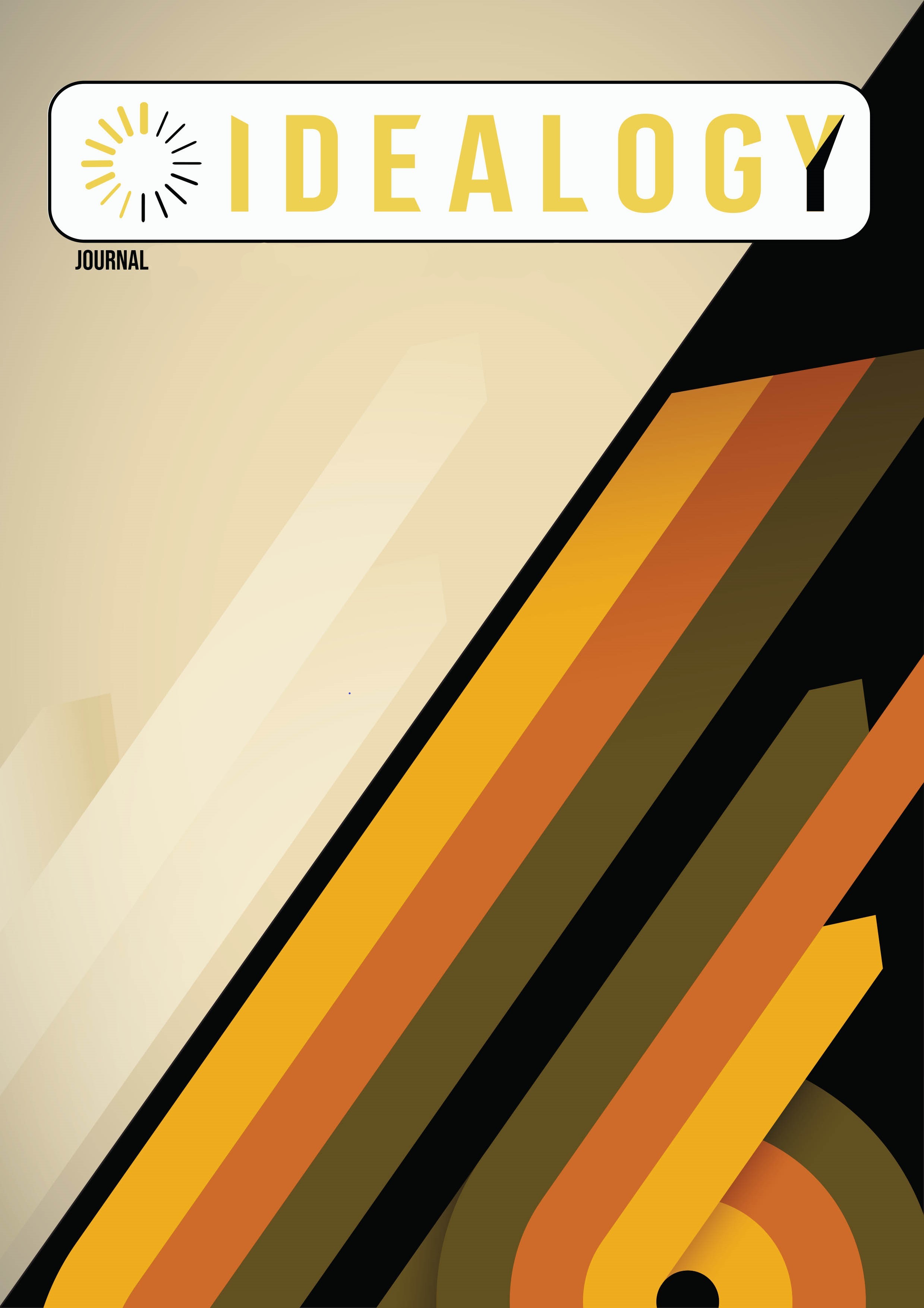 This work is licensed under a Creative Commons Attribution-NonCommercial-NoDerivatives 4.0 International License.
UiTM Press (the Publisher) has agreed to publish the undersigned author's paper in Idealogy Journal. The agreement is contingent upon the fulfilment of a number of requirements listed below.
1. The undersigned author warrants that the paper entitled below is original, that it is not in any way libellous or unlawful in Malaysia, that it does not infringe any copyright or other proprietary right. The undersigned hereby represents and warrants that he/she is the author of the paper, except for material that is clearly identified as to its original source, with permission notices from the copyright owners where required. The undersigned represents that he/she has the power and authority to sign and execute this agreement.
2. The undersigned author warrants that the paper entitled below has not been published elsewhere, and also it will not be submitted anywhere else for publication prior to acceptance/rejection by this Journal.
3. By submitting the paper entitled below, the undersigned author agrees to transfer the rights to publish and distribute the paper in an international e-journal (entitled above) to Publisher.
4. The undersigned author agrees to make a reasonable effort to conform to Publisher's submission guidelines and to liaise with the editor to ensure that the requirements of these guidelines are met to a reasonable degree.
5. The corresponding author signs for and accepts responsibility for releasing this material on behalf of any and all coauthors. This agreement is to be signed by at least one of the authors who has obtained the assent of the co-author(s) where applicable. After submission of this agreement signed by the corresponding author, changes of authorship or in the order of the authors listed will not be accepted.